Now that we've returned from Disney, several people have asked us how the vacation was, and what did we think of Walt Disney World. Overall the trip was fantastic, and it was really nice to be able to turn my brain off for hours at a time. (Those that are self-employed know what I mean.) My best memory of the trip isn't so much of Disney itself, but rather the expressions of wonderment on the faces of Greta and Dirk. You can see some genuine smiles in the photo gallery. They were loving it! And, as a parent of young children, when your kids are happy, you are generally happy.
The fun started at the new Indy airport. Both Greta and Dirk have flown before, but Greta was glued to the window this time. And Dirk was fascinated by going "super-fast". We spent 7 days/6 nights at WDW and I couldn't help but be impressed by the well-oiled machine it is. Everything is designed to make you forget that there is a real world just outside of the property. And logistically, the U.S. Army has met it's match. Once we'd checked our luggage in Indy, we didn't see it again until it arrived magically in our room at the Wilderness Lodge. The resort resembles a Lincoln Log fortress, complete with a mountain stream, scenic waterfalls, and a hot springs geyser. We opted for the meal plan, which I would recommend if it's in your budget.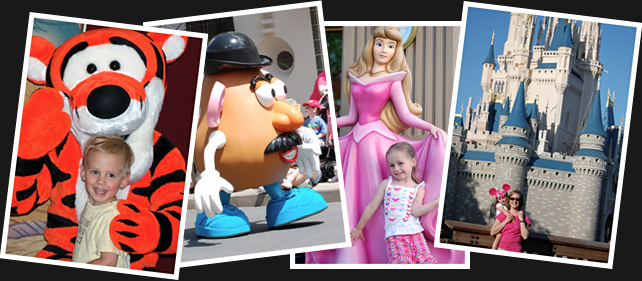 The parks themselves are like Las Vegas for children. An abundance of color, sound, and smell all compete for your attention. In most cases this formula works -- there are ample distractions while you're standing in line or waiting for a show to start. In my opinion, the shows and parades are worth the price of admission. The best ones are comparable to good Broadway plays shrink-wrapped into 20 minutes. The shows for Beauty and the Beast and The Lion King should not be missed. Many of the 3D attractions are also top notch and were a lot of fun for the kids. Greta's first roller-coaster experience was the Big Thunder Mountain Railroad, which is also one of my childhood memories of Magic Kingdom.
Epcot was our favorite theme park. They have a section of the park dedicated to many countries of the world. Our German heritage wouldn't let us pass up an opportunity to eat at the Biergarten Restaurant where Oktoberfest is recreated Disney-style. Our family enjoyed polka dancing, and we returned home with an authentic Bavarian hand-made cuckoo clock. I'm not sure I'm ready to return anytime soon, but I'm glad we went!